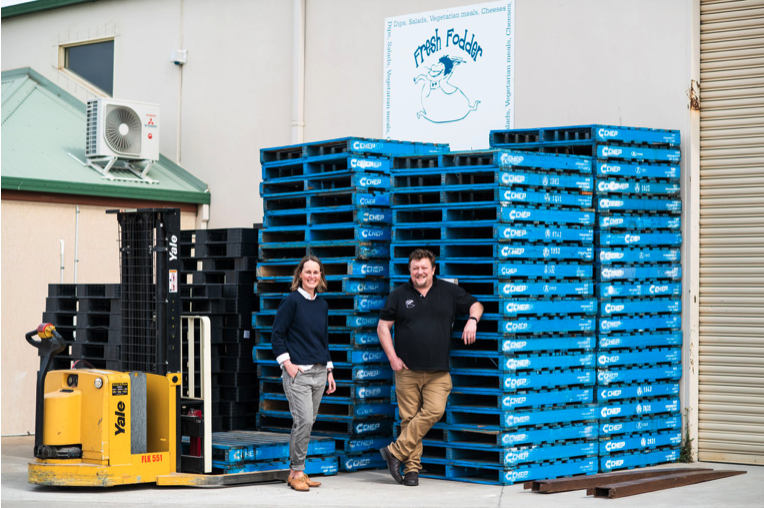 Fresh Fodder triples productivity with Jet Technologies packaging solution
After experiencing a major surge in demand due to the COVID-19 pandemic, Australian family-owned and operated boutique producer of hand-crafted dips, Fresh Fodder, has tripled its productivity rates since using the Ilpra FS2500 Rotary Cup Filler; part of a unique packaging and lidding range from Jet Technologies.
On top of this surge in demand, Fresh Fodder received new business from over 400 Woolworths stores nationwide, which pushed the business to re-consider its technology investments to meet customer needs and maintain competitiveness within today's fast-paced grocery market.
"As demand began to rapidly pick up, there soon came a point where our previous operational capabilities were outrun, which is where the investment in the FS2500 came into play as a crucial tool to increase our productivity and efficiency levels," Fresh Fodder managing director Max Schofield said.
"As all of this was happening right in the middle of the pandemic, we needed a solution fast. Thankfully, Jet Technologies was able to organise and install the new machine in a very tight timeframe, which helped us greatly throughout COVID-19 and to meet the high demand coming from Woolworths."
Based in Orange, NSW, Fresh Fodder produces 15 tonnes of product per week across 12 different flavours in both retail packs and food service bulk sizes, distributing nationwide to stores such as Woolworths, Aldi, IGA Supermarkets, COSTCO, Harris Farm Markets, and independent grocers, fruit markets, cafes, and delis.
"The investment in the Illpra FS2500 was part of a holistic upgrade of our production floor, as well as our business-wide plans to optimise operations with technology and improve the quality of our products," Schofield said.
"Since the machine was installed in October 2020, we have been able streamline our manufacturing to produce three times the amount of our existing throughput with the same headcount of staff. This has had the biggest overall impact on our bottom line.
"As a business, we are now seeing a huge 25 per cent growth year-on-year, so upgrading to this new solution allows us to optimise operations and keep up with our current and future growth."
The FS2500, from Italian packaging manufacturer Ilpra, is a mechanical rotary filling and sealing machine with eight stations, designed to fill dispensable plastic cups and containers with liquid and semi-solid products.
Part of Jet Technologies' premier range of fill seal solutions, the FS2500 is the ideal system to streamline the manufacturing process of a diverse range of products including dairy, dips, cosmetics, pharmaceuticals, desserts, and ready-made meals.
"With such an upheaval of the grocery market over the past year, we are glad that we could help Fresh Fodder streamline its operations to match unprecedented growth," Jet Technologies director Daniel Malki said.
"With countless changes to the market, global and local supply chains have become very hard to manoeuvre, which has challenged countless industries to find an innovative means of adapting.
"So, it is fantastic to see Australian businesses such as Fresh Fodder taking such a proactive approach to addressing these challenges head on, by investing in technology that help to future-proof their manufacturing operations."