Jet Technologies and Di Stefano provide perfect blend to bring signature coffee to luxury hotels
Founded in 1982 by Giuseppe Di Stefano and his family, the business is still family owned and run today. It's been over 30 years since the Di Stefano family started endorsing the idea of locally roasted coffee.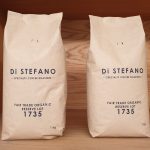 The production roasting facility, located at Wetherill Park in Sydney, has the capacity to roast up to 1.2 tonnes of coffee beans per hour, with its state of the art completely automated roasting technology.
Producing a complete range of brands that are nationally recognised, the Di Stefano brand was launched in 2000, following a friendly competition between father (Giuseppe) and son (Nicola) Di Stefano. After months of back and forth, cupping each other's blends and trying to beat the other, one day Giuseppe walked into his son's office, threw a bag of coffee on his desk and signed it with a marker – The Di Stefano Signature Blend was born!
Expansion into luxury hotels
Following continued growth in recent years, Di Stefano had the opportunity to extend its brand into hotels in Australia.
"We were looking to synergise the Di Stefano brand with a move into high-end luxury hotels, as we believe the elegance emitted from these types of establishments dually complements the brand identity of hotelier and roaster." Nicolas Di Stefano – Business Development Manager, Di Stefano Specialty Coffee Roasters. "We believe our signature blend has the flavour profile to match the elegance and opulent setting."
To step things up and position Di Stefano, the company first needed to ensure the luxury look and integrity of its signature blend with a high-quality packaging solution for the coffee.
The packaging solutions
The Di Stefano business approached Jet Technologies, to gain expertise and knowledge on the best packaging solutions to meet its needs. Jet Technologies was able to make recommendations from its premium high-volume flexible coffee packaging.
Di Stefano chose a number of solutions, including coffee bags with full colour premium laminate printing quality to help the brand stand out from the crowd. To ensure maximum barrier protection and optimum shelf life for the coffee, a foil structure with the Goglio one-way degassing valves were chosen to complement the coffee bags.
"The packaging solution provided by Jet Technologies has enabled the Di Stefano brand name to successfully re-align itself in an ever changing, competitive Australian market," explained Daniel Malki, General Manager, Jet Technologies. "In addition to the right look, the packaging also ensures a strong and reliable coffee product that maximises the freshness of ingredients and longevity of shelf life."
Luxury hotel success
Working with Jet Technologies as its single solution for coffee packaging, Di Stefano has recently begun supplying its coffee across The Langham dining experiences. The hotel is a renowned 5-star luxurious hotel with breath-taking views of Sydney Harbour.
"We are excited that we have now been able to enhance the perception and quality of our esteemed brand," added Nicolas. "This has given us the opportunity to expand into new markets, including the unique dining experiences, elegant afternoon teas and gastronomical tastings offered at the Langham, Sydney," said Nick.
Jet Technologies also provided the technical packaging expertise to back up Di Stefano's supply and logistics Australia-wide.
"Jet Technologies has acted as our one stop shop for packaging, to help us reach this milestone," said Nick. "It has been easy working with Jet Technologies who go to extra lengths to ensure our requirements are achieved in line with specifications and deadlines."